Hydrostatic Drive Options
Hydrostatically powered, T-L systems are designed to deliver continuous movement. Gearbox wear is drastically reduced due to the absence of electrically driven system's stop-start operation. In addition, water and chemicals are evenly distributed over the crop. T-L systems deliver the best, most consistent water pattern available.
Choose from two types of hydrostatic drives: worm gear or planetary. Both offer continuous movement and have no exposed, moving parts.
T-L worm drive gearboxes carry an an industry leading warranty, 8 years or 16,000 hours. They have no exposed drive lines or ujoints, with an internal drive connection inside the base beam.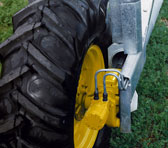 T-L planetary gears are totally enclosed and they are coupled directly to the hydraulic motor eliminating the center drive gearbox and conventional U-joints. Other exposed moving parts are not part of the T-L design. T-L continuous move hydraulic drive motors and planetary gear drives are easily accessible in the event service is ever required.
T-L offers the only planetary gear drive available on any center pivot system on the market today. In addition, the planetary gear boxes come standard with an 8 year/24,000 hour warranty.
Continuous movement means extended gear life.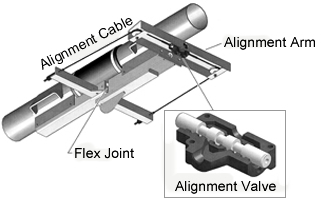 Alignment Control System
T-L systems maintain alignment through the use of a simple hydraulic spool valve. The alignment system moves the spool valve, metering the required hydraulic fluid flow for each tower maintaining continuous movement and alignment with the end tower. This simple hydrostatic control is vastly superior to the start-stop microswitch design used with single-speed electric motor drives.
Maintenance free, the spool valve is made of corrosion-resistant stainless steel. If a tower gets stuck or seriously misaligned, the valve will bypass hydraulic fluid through a return line to the pump, dropping the hydraulic pressure and stopping the system, preventing major damage.
The T-L alignment valve carries a industry leading 8 year warranty.
"The constant movement provides the even application of water so important in coffee production."
Read Etienne Steyn's Story