Leading Zero-Turn Mower Technology
Exmark zero-turn mowers are the product of decades worth of work in the field and factory. To truly make the world's best zero-turn mower, the team at Exmark spent time on the job with you. We felt your aches and pains. We learned what you want and need from a commercial zero-turn mower. We researched, listened to customers like you, and designed our zero-turn mowers with industry-leading ergonomics, maneuverability, cut quality, and durability. Maybe that's why more landscape professionals trust Exmark zero-turn mowers.
---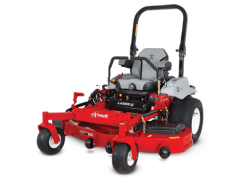 Lazer Z E-Series
The perfect choice for professional landscaper who want the innovative and commercial-grade quality of a Lazer Z zero-turn riding mower, but in a value package. The Lazer Z E-Series zero-turn mower features the same welded, heavy-duty, 1.5"x 3" tubular steel unibody frame found throughout our Lazer Z models. You can also choose from two rugged Kawasaki® V-Twin engines, a Kohler® Command™ Pro, or a Vanguard V-Twin engine matched to a full-floating, UltraCut™ Series 4 cutting deck, in 48, 52, 60, or 72-inch deck widths. Lazer Z E-Series zero-turn mowers come equipped with a full-suspension seat that enhances operator comfort, leading to less fatigue and increased efficiency.
---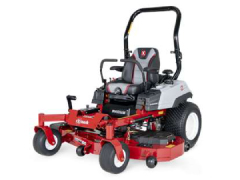 Radius S-Series
Whether you're upgrading from an older machine or are looking to add another zero-turn to your trailer, the new Radius S-Series delivers an unbeatable combination of durability, operator comfort, performance, and value. Choose from 48-, 52-, or 60-inch UltraCut Series 3 side-discharge cutting decks, each equipped with our exclusive flow-control baffles for a superior cut quality. An adjustable full-suspension operator seat and isolated footrest provide superior all-day mowing comfort.