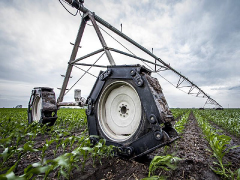 Designed for Mud and Water
Versatility
RAAFT Tracks' design and structure are built to handle the uneven and ever-changing landscape of your field. RAAFT Tracks have been successfully keeping pivots moving in a variety of crops and regions of the world. RAAFT can even navigate bridges, washouts, and hills.
Prevent Soil Erosion
RAAFT Tracks help with erosion problems because our design helps to minimize—or completely eliminate—rutting. In addition, RAAFT Tracks create imprints that increase soil water absorption and eliminate pivot track wash outs.
100% Recyclable
RAAFT Tracks are manufactured using a food grade, UV protected polyethylene/carbon composite plastic that is 100% recyclable. We believe in doing our part for the environment and this is our way of thinking for future generations.