Made for the American Dream
With CFMOTO, you have the power to conquer more. From rocky creek beds in our work-tough UFORCE models, to sand dunes in our performance-ready ZFORCE SXS, and backcountry on our CFORCE lineup, we have something for everyone who wants to get the most out of their ride. Outfitted with our reliable liquid-cooled 4-stroke engines, an unmatched assortment of standard features, and cutting-edge style, our ATVs and side-by-sides do more than just turn heads. Whether you're looking for the ultimate adrenaline rush, or a heavy-duty utility machine, you can take on anything with CFMOTO.

---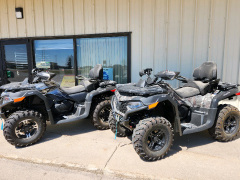 CFORCE Off-road ATVs
Do you want to get away from it all or get away to it all? Either way, CFORCE ATVs make it happen. Inspired by adventure motorcycles, the top-of-the-line CFORCE 1000 Overland's 963cc V-twin engine tackles uneven trails and rocky terrain as effortlessly as the responsibilities you're leaving behind. An accessory passenger seat and three hard-side gear cases make packing your hunting, fishing, or camping gear easier than bagging the big one. The 800 XC and 600 Touring offer sculpted, 2-up seating, while the 600 has pack-it-on front and rear racks so you can bring more of what you want. The 400 and 500 are mid-sized but go full-size on value and come with styling that you don't want to camouflage. What are you waiting for? Your favorite spots are calling. Get there with CFORCE.
---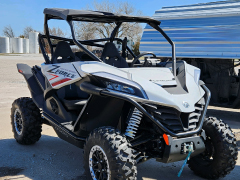 ZFORCE Performance Side-BY-Sides
Every sand pebble is calling your name. Are you up for the challenge? Make sure your machine is. The ZFORCE lineup of performance side-by-sides is designed to dominate shifting sand dunes, rut-filled trails, and terrain that sends the timid home early. The new styling on these beasts is certain to make Mother Nature and your riding buddies jealous. The ZFORCE Trail models have an all-new chassis, and its narrow 50-inch-wide stance lets you ride almost anywhere—even restricted trails. The ZFORCE 950 Sport and the ZFORCE 950 H.O. EX come with a wider stance for nastier terrain, with the 950 Sport getting an all-new chassis. The new ZFORCE lineup is ready. They're the perfect get away to adventure vehicles.
---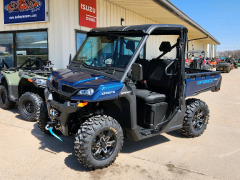 UFORCE Utility Side-By-Sides
UFORCE utility side-by-sides prove to your most demanding jobs that they're a force to be reckoned with. These work-ready machines tackle harsh conditions with bucket-loads of power and handling. Take the UFORCE 1000 XL, the beefier brother to the UFORCE 1000. The two comfortable 3-person bench seats make it easy to ride all day, wherever the job or big game takes you. The 600 sports a roomy 2-person bench seat and is ideal for checking on crops or tooling around the cabin. We loaded each UFORCE with comfort and convenience. A large-capacity cargo box and powerful winch come standard on every UFORCE. Work can be tough. That's why we make getting to the job and back on a UFORCE comfortable for you—and your wallet.