Classic. American. Muscle.
MOW WITH AN ATTITUDE. It's our legacy. The driving force behind every mower we build. It's a promise to every owner that we'll continue to lead the industry in delivering innovation and powerful mowing performance across our entire mower lineup. And we do it all for mowing pros and demanding homeowners — just like you.
It takes brains and brawn to build a mower as ruggedly simple to operate, easy to maintain and provide the best value — over years of use — as a Bad Boy Mower. Over-built and over-horsepowered since the very beginning, our mowers represent the very best in delivering classic, American muscle. We continue to improve the process of building and innovating our mowers so that every single one is delivered for you to ready to MOW WITH AN ATTITUDE.
---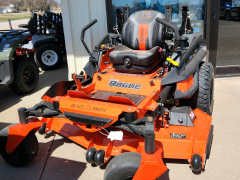 Commercial & Residential Zero Turn Mowers
We pack more in our zero turn mowers so you can get more out of them. It doesn't matter if you choose our commercial or residential models, every Bad Boy Mower shares the same heavy-duty, last-a-lifetime construction. Our reputation rests on our all-steel "heavier-duty than they have to be" cut and welded rails. And before any mower leaves our plant, we give it a spin for quality first with our 112 point factory inspection. It takes longer to build a mower like ours than to stamp one out, but it's the only way to guarantee that we won't just out-mow the competition, we'll outlast it as well.
---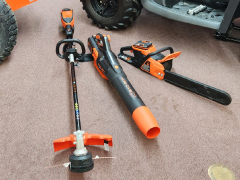 80 Volt Outdoor Power Equipment
The ultimate solution to meet all of your lawn and garden needs. Our All-New Bad Boy E-Series 80-Volt Outdoor Power Equipment is designed to offer the convenience and power of traditional gas-powered tools, but with the efficiency and low maintenance of electric.